| Home | Information | Parts | Publications | Service | Repair Hints & Product Info | Other Related Activities | Links | Patent/Archives
---
Patent/Archives
Lionel Archives and Frank Pettit
The job as "New Product Manager" (1965) at the Hillside , New Jersey Plant included a number of responsibilities that I had not anticipated. When they showed me the "Archives" and handed me the key, I was hardly prepared for the history that was stored there. One would never have noticed that there was actually a room between my lab area and the large storage space beyond. Actually, the secret room had been created where two buildings joined. It was about eight feet wide but quite long, perhaps forty feet or more and the shelves of Antique Trains and test devices, prototypes, etc. extended pretty high up. Over sixty years of dust adorned the mysterious pieces, some of them straight out of Frank Pettit's cellar.

It was so overwhelming at the time, I could scarcely absorb it all. However, when the importance of what I had been handed finally sunk in, first I was honored that the top guys would choose me to monitor this area. Later, the burden of being the sole key holder hit me. Somehow I survived the challenge, as was the case with my entire tenure at Lionel, until I left for Parker Bros. in New England . Later, others would more or less "have their way" with the properties after I left. But that's not even a subject for speculation, in my view.

We found a number of interesting Patent drawings recently, some of them direct from Frank Pettit and some from Caruso and Bonanno. These are shown here for those who have never observed this fantastic material. It's a kick to have this and to be able to pass it on to the other train enthusiasts. Thanks to Wayne Bethoney for his detective work in this discovery.
November 10, 1953 Frank Pettit -- Toy Smoke-Producing Apparatus
June 16, 1925 H.C. Ives -- Truck for Toy Railway Cars
June 13, 1961 J.L. Bonanno -- Plastic Truck
January 27, 1959 F. Pettit -- Toy Railroad Track Connectors
June 24, 1930 L. Caruso -- Reversible Electric Locomotive
December 23, 1952 J.L. Bonanno -- Electronic Control for Toy Electric Railroads
January 22, 1965 J.L. Bonanno -- Toy Track Structure
November 10, 1953 Frank Pettit -- Toy Smoke-Producing Apparatus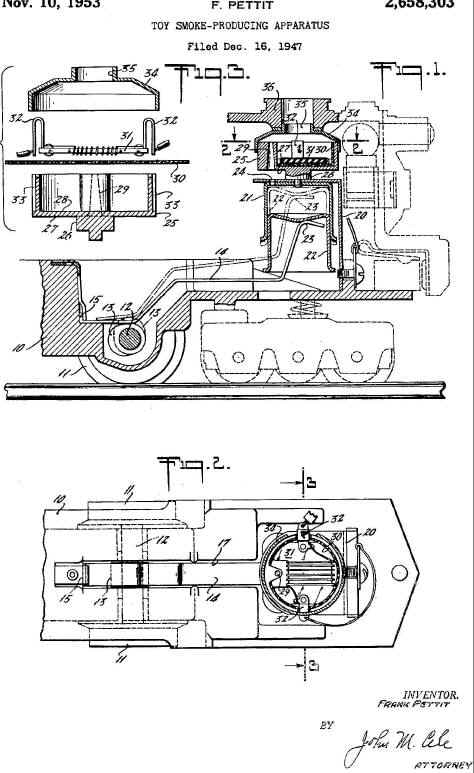 ---
Return to top

June 16, 1925 H.C. Ives - Truck for Toy Railway Cars


---
June 13, 1961 J.L. Bonanno Plastic Truck
---
January 27, 1959 - F. Pettit Toy Railroad Track Connectors



---
June 24, 1930 L. Caruso -- Reversible Electric Locomotive

---
Return to top


December 23, 1952 J.L. Bonanno -- Electronic Control for Toy Electric Railroads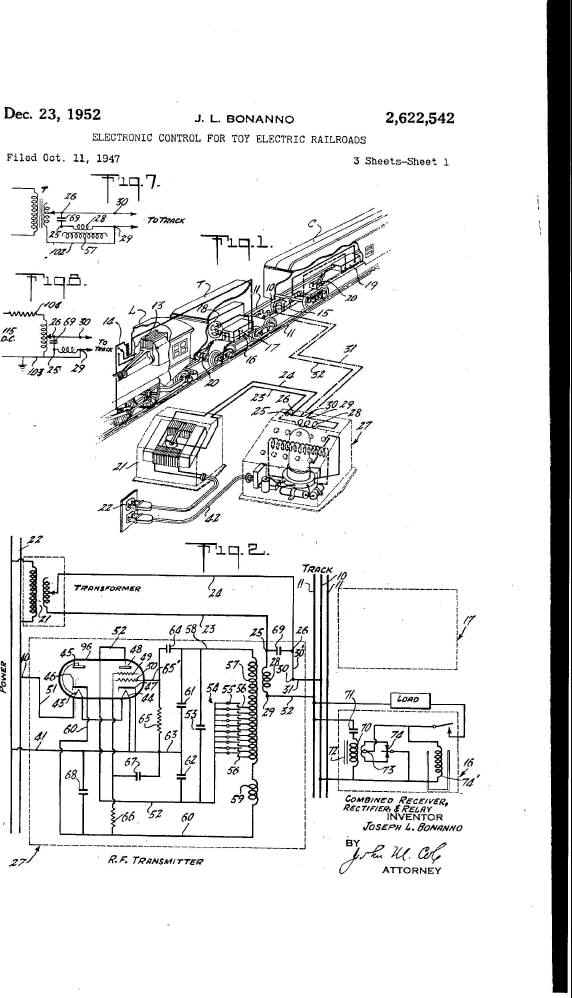 ---
Return to top

January 22, 1965 J.L. Bonanno -- Toy Track Structure